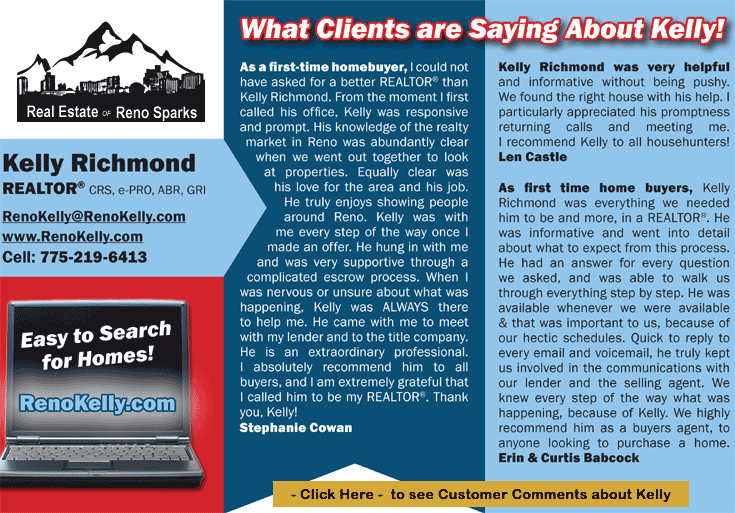 The market has changed for homes in Reno and homes in Sparks.
Now is the best time in several years to sell a home.
For 5 years I represented only buyers. Now I am doing listings for homes in Reno as well.
Call me or email me, if you want to BUY or SELL !

Homes in Reno - Reno Nevada Real Estate - It's not difficult to understand why many companies are choosing to base their businesses in Reno and relocate their employees here. In a sense, Reno sits at the crossroads of the great West:
The city has easy access both to the beauty of California and Lake Tahoe. Residents enjoy dry, pleasant temperatures year-round; yet, just a short distance away, they can take in a winter wonderland of white-capped mountains and snow-covered trails. Most important, perhaps, newcomers to Reno discover a wealth of local businesses that have spurred a strong economy and an active real estate market that caters to every preference and desired price range.
Kelly Richmond REALTOR®, CRS, e-PRO, ABR, GRI
The #1
Exclusive BUYER AGENT
in the Reno/Sparks Area
FIVE years in a row, per Volume of Sales NNRMLS
-
Contact Kelly to BUY or SELL !

Call 775-219-6413
or
Email: renokelly@renokelly.com

---
Realtor Reno ~ Reno Nevada Real Estate ~ Reno Real Estate ~ Reno Home For Sale
Reno Realty ~ Reno NV Real Estate ~ Sparks Real Estate ~ Site Map ~ Links Page
Reno Realty - Sparks Homes for Sale - Washoe County Real Estate © 2004 - 2016 RenoKelly.com. All Rights Reserved.