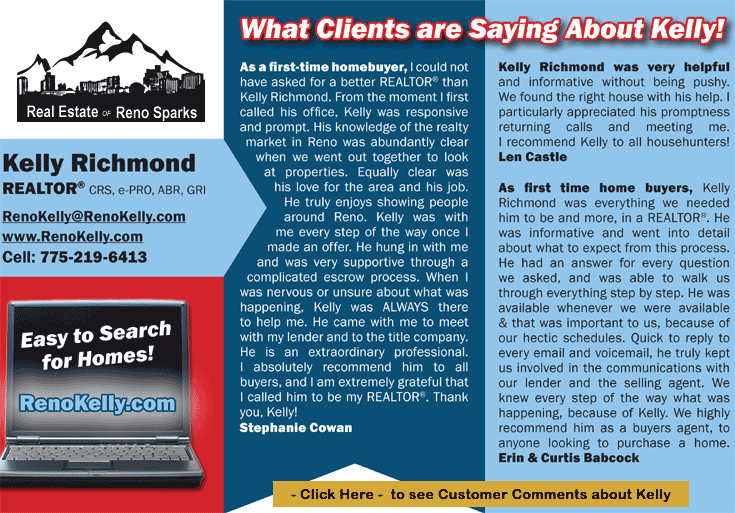 Kelly Richmond is in the Top 5% of all Real Estate Agents in the United States in residential sales volume, according to the Council of Residential Specialists (CRS).
Certified Residential Specialist is the highest credential awarded to residential sales agents.
The market has changed for homes in Reno and homes in Sparks.
Now is the best time in several years to sell a home.
For 5 years I represented only buyers. Now I am doing listings for homes in Reno as well.
Text me, call me or email me, if you want to BUY or SELL !

Homes in Reno - Reno Nevada Real Estate - It's not difficult to understand why many companies are choosing to base their businesses in Reno and relocate their employees here. In a sense, Reno sits at the crossroads of the great West:
The city has easy access both to the beauty of California and Lake Tahoe. Residents enjoy dry, pleasant temperatures year-round; yet, just a short distance away, they can take in a winter wonderland of white-capped mountains and snow-covered trails. Most important, perhaps, newcomers to Reno discover a wealth of local businesses that have spurred a strong economy and an active real estate market that caters to every preference and desired price range.
Kelly Richmond REALTOR®, CRS, e-PRO, ABR, GRI
The #1
Exclusive BUYER AGENT
in the Reno/Sparks Area
FIVE years in a row, per Volume of Sales NNRMLS
-
Contact Kelly to BUY or SELL !

Call 775-219-6413
or
Email: renokelly@renokelly.com
---
Realtor Reno ~ Reno Nevada Real Estate ~ Reno Real Estate ~ Reno Home For Sale
Reno Realty ~ Reno NV Real Estate ~ Sparks Real Estate ~ Site Map ~ Links Page
Reno Realty - Sparks Homes for Sale - Washoe County Real Estate © 2004 - 2020 RenoKelly.com. All Rights Reserved.